Make your next event truly special and unforgettable.  Let Janelle set the tone for your event.   
Romantic. Joyful. Celebratory. Fun. Jazz! 
The perfect throwback touch for an early-to-mid 20th Century Experience. 
JANELLE'S JAILHOUSE JAZZ PROGRAM FLYER 
Music heals. Vibrations heal.  Performing engages all areas of the person: mental, emotional, physical, spiritual.  
When an incarcerated person has not much more than time in hand to think things over, why not provide content that is helpful for healing and empowerment to prepare for a brighter future? 
This program does exactly that.  Since 2016, this program has connected with the incarcerated in Westchester County's county jail in Valhalla.  An annual workshop aims to boost several kinds of literacy by teaching the poetry of jazz and blues standards' lyrics, rhythms, cultural references, and social history of civil rights.  
Also, having a workshop with lyrics to the song, "Stardust," or "Happy Talk," has been known to improve the morale and worked as a tool in stress management for those who are ready to reach for something different to change their inner worlds. 
With this program, Janelle is able to draw from educational background in public health (MPH from Loma Linda University School of Public Health) to promote the quality of life for a marginalized population.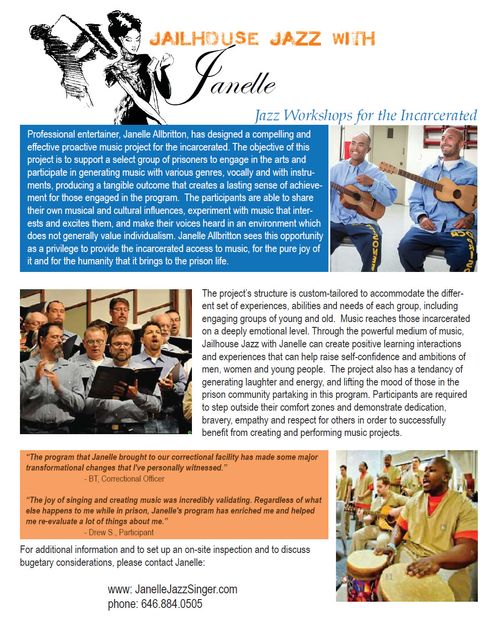 JANELLE IN THE STUDIO
Janelle's first time in the studio was with Theo Saunders (piano), Henry "The Skipper" Franklin (double bass), and the late Ramon Banda (drums).  Nolan Shaheed  joined for two tracks (trumpet).
For her original lyrics for "Under Tanzanian Skies," and a few other songs, CLICK HERE.
It's not the note you play that's the wrong note – it's the note you play afterwards that makes it right or wrong.  ~Miles Davis